Our customers are often surprised by the many possible choices when it comes to choosing the right ring binder for the job, so here are a few explanations of the different options available.

Size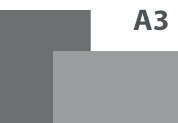 A3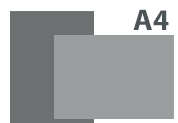 A4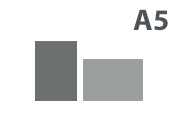 A5
You can choose from the above standard sizes of binder in either portrait or landscape format. If you need a bespoke size, this is usually possible but will add new tooling costs.

Material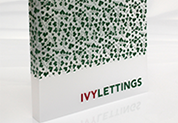 Polypropylene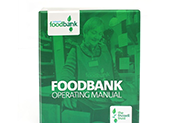 PVC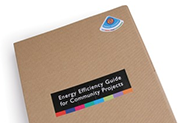 Card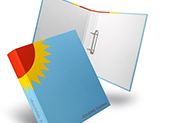 Paper Over Board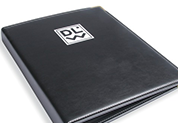 PU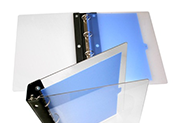 Perspex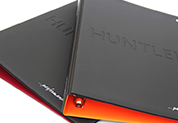 Expanded PVC
Ring binders can be made from PVC (plain or expanded), polypropylene, paper over Board, PU, card or perspex.
Mechanics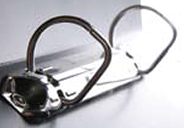 D-ring
O-ring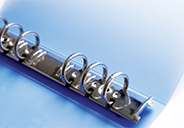 Organiser Ring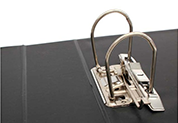 Lever Arch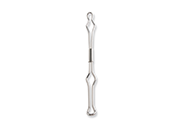 Compressor Bar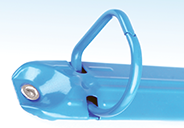 Powder Coated
Ring mechanisms, come in either D or O shapes with 2 or 4 rings, and range in size (capacity) from 15mm - 65mm increasing in 5mm increments.

You can use this guide to help you choose the correct size of ring mechanism for your ring binder.
The following sizes of D ring mechanisms, riveted to the back cover, take the following number of leaves of 100gsm paper
15mm – 100 leaves of 100gsm paper
20mm – 160 leaves of 100gsm paper
25mm – 200 leaves of 100gsm paper
30mm – 240 leaves of 100gsm paper
35mm – 280 leaves of 100gsm paper
40mm – 330 leaves of 100gsm paper
45mm – 380 leaves of 100gsm paper
50mm - 420 leaves of 100gsm paper
65mm – 550 leaves of 100gsm paper
These can be powder coated in a specific colour for extra impact. For larger ring binders you might want a lever arch mechanism or you may want a compressor bar to hold down your papers.

Binder Style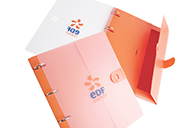 Combi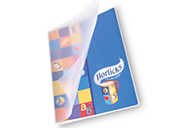 Liner Sheet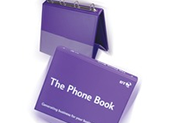 Easel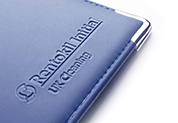 Stitched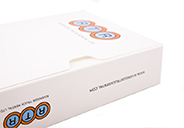 Slip Case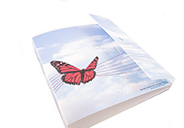 Additional Spine
We manufacture ring binders in many different styles. For presentations the easel binder is ideal, for conferences you might want to look at the combi binder, which combines
a ring binder and a wallet for loose sheets.

We make slip cases in paper over board or polypropylene. PVC & PU binders can be stitched & fitted with metal corners.

An alternative to printing direct onto polypropylene is to have a printed liner sheet which is visible through the clear frosted front cover.



Printing Method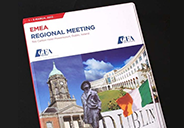 Digital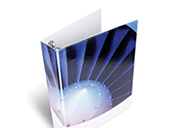 Litho
Silk Screen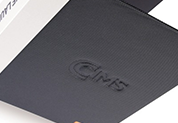 Debossed
Foil Blocked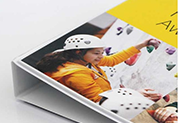 Prints Encapsulated
We can print directly onto PVC and polyprop, either digitally (good for small runs where there is a photographic image involved), silk screen (if you want 1-4 colours printed) or litho for long run photographic full colour images.
We can also foil block in gold/silver or other colours, or you can choose to have your logo debossed (imprinted).
For a more cost effective option, especially for short runs, we can encapsulate digital prints under clear PVC on the front back and spine of PVC binders. You can still choose any colour PVC for the basic binder, and this means you can print as many colours as you like at a very competitive price.
Closure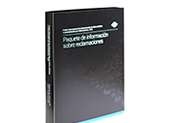 Velcro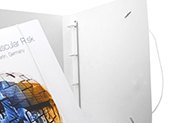 Treasury Tag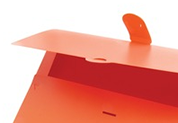 Tuck And Slot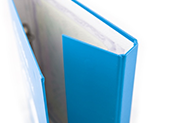 Magnetic
Press Stud
We provide a wide choice of closure options, such as velcro, treasury tags, tuck and slot, magnetic or press studs.